News Published Date – 9/8/2021
France's citizens will have to present a health card starting Monday in order to be able to do routine activities like drinking coffee at a cafe or traveling inter-city, in spite of large-scale protests against this plan.
President Emmanuel Macron championed the COVID-19 Pass, which is now being extended in cafes, restaurants, and air and rail travel as a way of curbing a fourth wave coronavirus outbreak and encouraging people to get vaccinated.
The plan led to four weekends filled with angry protests, with nearly a quarter million people marching on the streets of the country each Saturday.
A QR code is used to generate the health pass. It can be generated by either a full course or negative virus test, recovery from COVID-19, or a complete course of vaccinations. For consumers and businesses, the government will allow a grace period of one week to adjust to the new rules.
Olivier Veran, Health Minister, said that the pass and vaccination drive would help to avoid lockdowns and new curfews.
For visits to cultural venues like museums and theatres as well as for sports games, the first introduction of the pass was on 21st of July.
Veran made some minor changes to the rules, including that tests would now be valid for 72 hours and not 48 hours. Also, self-tests under medical supervision will be permitted.
He stressed that there will be no reversal of rules in place until November.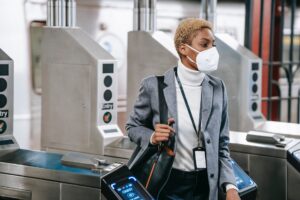 Macron said "I am willing to hear the fears, do everything to reassure. But there comes a time when enough is enough".
Opponents claim that the new rules infringe on civil liberties in a country that values individual freedom.
The interior ministry reported that around 237,000 protestors marched in France on Saturday, with 17,000 of them in Paris. This is more than the 204,000 who protested the weekend before. These numbers are unusual for protests during the heights of the country's summer break.
Recent polls have however shown that the majority of French support the pass, which includes the extension to cafes or restaurants. The plan was approved by France's Constitutional Council on Thursday.
It will be used in restaurants' outdoor and indoor areas, but not on subways or suburban transport.
Although hospital numbers are still far below the peak of the pandemic, there were 1,510 people admitted to intensive care on Saturday with COVID-19, compared to 1,099 a week ago.
Macron is hopeful that the plan would accelerate the vaccination drive of France where more than 55% people are already double-jabbed. Aides noted that nearly seven million people have booked their first jabs in the time since the plans were announced.
Corsica and the Mediterranean coast have seen the most rapid rise in cases. These areas are also seeing an increase in holidaymakers.
The biggest concern is France's overseas territories, in the Indian Ocean or Caribbean. New lockdowns were ordered due to slow vaccine uptake.
Macron, who is up for re-election in the next year's election, has taken to social media platform TikTok to communicate his message repeatedly over recent days.
On Friday, Macron stated, "Get vaccinated. Get vaccinated. Get vaccinated". And, he also mentioned that freedom is useless if it infects our grandparents, friends and neighbours, as to be free means to be responsible.
Source: https://www.aljazeera.com/news/2021/8/9/france-pushes-ahead-with-covid-pass-despite-protests